13/11/2020 Care providers go above and beyond to help service users mark Remembrance Day
Remembrance Day is a chance for us all to honour those lost in the First World War, but 11th November has special significance for older people. Although it may seem like a long time ago, many service users and care home residents across Lincolnshire lost loved ones in the war – fathers, uncles, friends and neighbours – who never had the chance to reach old age.
Remembrance Day is also a chance to honour veterans of all conflicts, many of which now reside in our county's care homes or require support from a domiciliary care worker. That's why it's so important for care providers to help their service users to mark Remembrance Day, with many in Lincolnshire going above and beyond to help those in their care to remember the fallen.
Here is a round-up of some of our favourite stories from this year's memorial day.
Walnut Care
To help their service users take part in Remembrance Day, this year Boston-based home care provider Walnut Care at Home created a poppy colouring template for their service users to decorate, facilitated by their team of care workers. For every poppy coloured in, founders David and Melanie Weatherley have donated £1 to the British Royal Legion. For every completed poppy picture hung in a window, they have donated £2.
Ridgeway Care Home
Every year, Ridgeway Care Home in Lincoln ensure there is a range of activities available to help their residents pay tribute to those lost in World War I. For 2020, with residents unable to spend time with their friends and family, Activities Co-ordinator Abigail has gone the extra mile. Activities included cake decorating, creating poppy garlands for the windows and a reading of classic war poetry including In Flanders Fields (Lieutenant Colonel John McRae), For the Fallen (Laurence Binyon) and The Soldier (Rupert Brooke), before rounding off a busy morning with a tasty takeaway fish and chips lunch.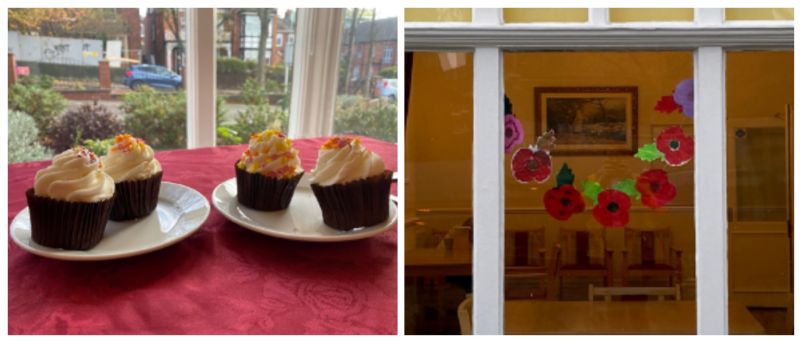 Country Court Care
For this year's Remembrance Day, Country Court Care decided to pay respect to the many veterans living in their care homes across Lincolnshire by sharing their fascinating life stories on their blog. Gripping tales include Grantham-born Ronald, who was one of the soldiers evacuated from the infamous Battle of Dunkirk in 1940, and Cold War Air Defence Operator Brenda, who helped to guide fighters to hostile aircraft in British Air Space – even winning a 'Recognition of Service' for her work!
Read more stories here.